ListenTALK Systems
A ListenTALK system enables group communication with amazing sound quality in any facility – indoors or outdoors.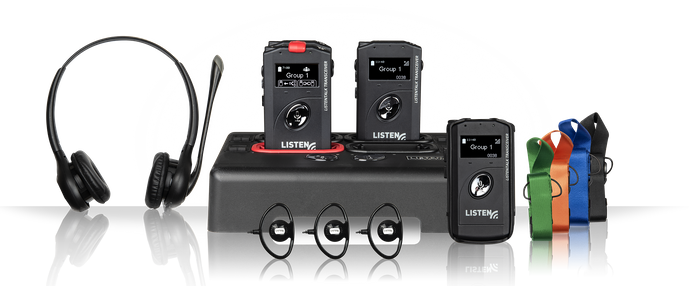 It can be frustrating to talk one on one or to a group when working in a challenging environment with noise, distance, distractions, or competing conversations. Communicate easily and clearly with Listen Technologies simple, portable group communication system, ListenTALK.
We offer complete ListenTALK LKS Packages to facilitate two-way communication with your team while maintaining social distancing at work.
SYSTEM FEATURES
Up to 100 metres range, depending on local environment
Rechargeable devices operate for 8 hours
Operate up to 30 groups for different departments and roles
Unlimited number of participants
Five year warranty on all devices
Licence free operation in UK & EU
Can be quickly split into smaller groups, for training sessions as an example
Rechargeable devices
Wipe clean headset and device for sanitising between users
---
Transceivers (combined transmitters and receivers) are devices that transmit and receive the sound.
Choose from five different headsets designed for a variety of environments, from a quiet museum to a loud manufacturing floor.
Docking stations charge, store, and pair the ListenTALK devices and are easily either rack or table mountable.
From extra lanyards, to cable management, to smartphone cables, to disinfecting wipes, accessories enhance the functionality of your tour guide system.